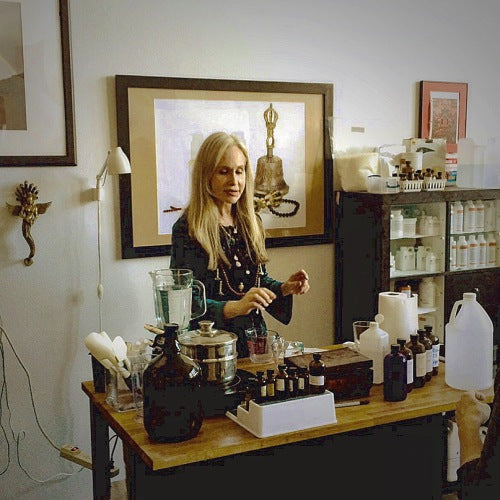 I trust this email finds your lives flowing with grace and ease. I know things have been rocky here at Goddess of Skin. You are all aware of the health issues I faced the end of 2021 and all of 2022.
During this time I met a incredible woman named Ariana Dedianko whom shared the healing modality of Ozone therapy to me. I became so in awe of this I eventually purchased a machine and began treating myself both with IV and ear insufflation, and also drinking water that has been ozonated. If you are not aware, Ozone Therapy has been used in clinics and underground now to treat everything from Cancer to AIDS. It has the ability to kill any pathogen in the blood and body. It has worked miracles for me and my healing.
Ariana has developed a ozonated ointment that has garnered a cult like following. She and her partner, Caroline de Sousa, knew they were onto something miraculous. This ointment heals and protects the skin, working with pigmentation and acne especially. They have approached me with the idea of creating something together. Taking the formulas I have created and ozonating the oils inside the products. Imagine what this will do for our already beloved lotions and potions? So I have spent the last several months training them on all the intricacies of creating our products, and now they are ready to take over the line.
Subtle Bodies is the name they are calling their line, and they will take what I have done with Goddess of Skin and do all the things I wanted to do, only better. No more wait times for products, same quality and formulas, and even better products. They are even going to make sure that your beloved Ethereal Eye Treatment finds new packaging and the Travel Kit will again make an appearance. I am very excited.
I will stay on as a consultant, an advisor, and mentor. But this year I turn 65 years old(I am still in shock) and plan on retiring and taking some more precious time to heal. This sickness has brought me to my knees, but has been a blessing in so many ways. You will still be able to order from the same location, with all of the same parameters in place. And they are starting with a Sale so all of you will be able to get your products quickly and at a ridiculous price. Keep your eyes peeled for the email.